Film Photography & Darkroom Supplies
Welcome to the home of NOVA DARKROOM!
Our website incorporates Nova Darkroom and Nova Digital under a single brand name:
The Imaging Warehouse. We are the same company that has served you consistently since 1983 - 40 years of advice, supplies and guidance to our clients in all things darkroom.
Nova started in 1983 with the sole aim to develop and market a unique design of print processor to make life easier for the darkroom user. Now, having expanded our range into other hardware products and chemicals, papers and accessories, we are supplying thousands of darkroom users and businesses worldwide with all their processing requirements.

With over 2500 products available from stock, a range of quality used equipment and a team of technical staff boasting over 100 years of knowledge and experience, we are a one-stop shop for all your darkroom needs. Major brands include: Ilford, Kodak, Agfa, Fuji, Fotospeed, Paterson, LPL, Rollei, Adox, Kentmere, Harman and more... We continue to be the world-leading manufacturer of slot-processors, film processors and archival washers, offering a full selection of space saving and environmentally efficient products for the modern darkroom. We are excited about our new website coming in late 2023/2024 where we have some exciting new Nova Darkroom products hitting the market.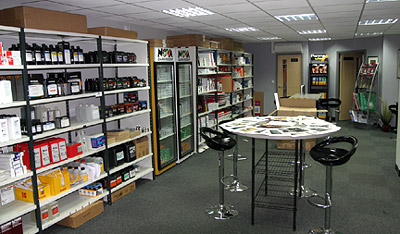 Our new state-of-the-art distribution center provides climate-controlled conditions for optimal storage of photographic materials. We keep very high stock levels of all film and paper, allowing us to offer next-day shipping to most parts of the UK and standard shipping to all other areas in the EU and worldwide. All orders placed online or by phone are processed and shipped on the same day (subject to availability and time of day). Our central location in the Midlands allows for fast delivery to all regions.
In 2014, we partnered with Harman Technology to promote the use of darkrooms and dedicated traditional processes.
We stock all major brands and also have many obscure and hard-to-find items, catering equally for film and digital photographers. If there is an item we don't stock, then just let us know and we will do our best to get it in for you.